Refurbished
The iMac 24″ is a clear improvement over its 21.5-inch predecessor in all aspects. Not just a bigger screen, the 24″ model has a sleek, colourful design, and peak performance.
The iMac 24″, whether new or refurbished, takes the iMac range in a new direction. Along with the guaranteed gorgeous display, and outstanding webcam, the new colour schemes bring a sense of personality to the product.
Why buy the iMac 24″?
The new iMac 24″ display is a new take on an old favourite. The classic silver aesthetic has been overhauled to give the product a more contemporary look. Seven new colour options (including classic silver) are available, so the customer can customize their product.
A compelling reason to buy the iMac 24″ is the aesthetic. With numerous options, the product can either stand out or blend in. The design is where Apple products excel, leaving competitors behind. Windows PC products simply cannot compare to the modern aesthetic of Apple.
iMac 24″ Design
The cost is cheap on this site, but the design is not. A sleek white surrounds the screen, in keeping with the uniformity of Apple products. However, there are seven fun colours to choose from. Blue, green, pink, silver, yellow, orange, and purple.
iMac 24″ – wonderful sound world
The iMac's HiFi-level six-speaker system includes damping bass speakers. The system also guarantees wider stereo sound and supports surround sound when playing music or videos with Dolby Atmos. The iMac also includes three studio-grade directional microphones with a high signal-to-noise ratio. All these wonderful features guarantee that the price-quality ratio is just right.
Why choose iMac 24″
The iMac is easy to use, especially if you are already familiar with Apple devices. It is designed for working, playing, studying and also for all kinds of other creative use. The iMac also includes versatile ready-to-use applications. Free and regular software updates keep your computer up-to-date and ensure a safe and comfortable user experience.
Conclusion
When buying a new piece of tech, the best place to go is a site selling refurbished products. Not only is it a more budget-friendly option, but it is also eco-friendly. Products that are refurbished don't end up in a landfill. That's responsible shopping.
Out of stock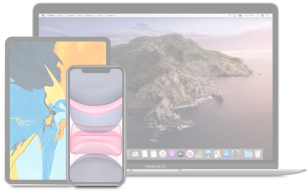 Oops...
Our apologies! Right now we don't have the product you are looking for. Be sure to sign up for our notification service below and get notified as soon as a new product is published in the web store.
If you can't find the product you are looking for you are welcome to use our notification tool! As soon as we receive a product matching your criteria we will get in touch!